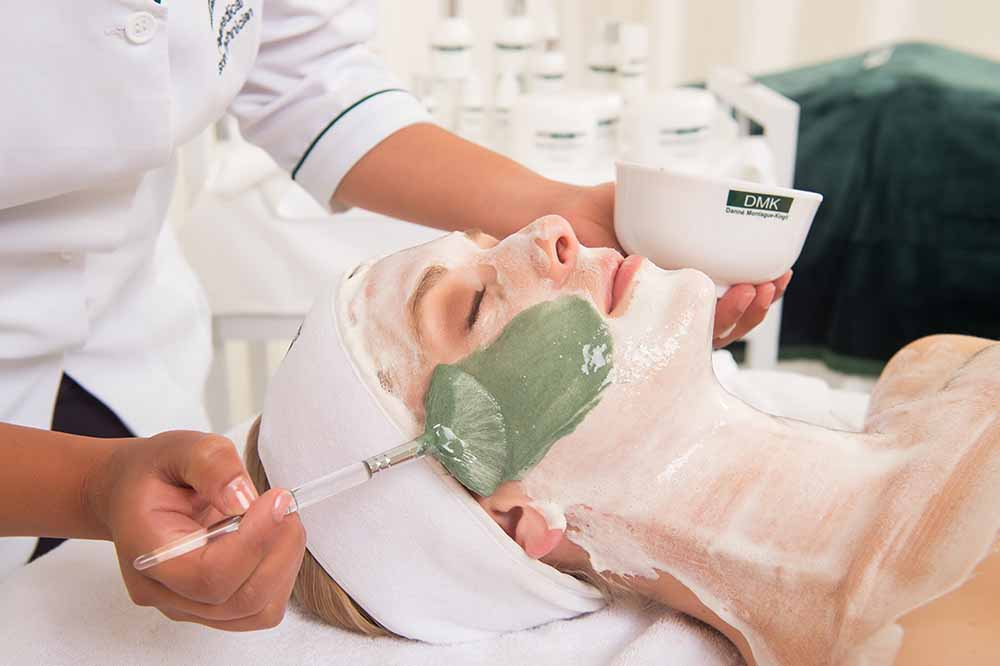 Facial Treatments Mittagong
Great skin doesn't happen by chance—it happens by making an appointment at Sea of Beauty. Let us introduce you to some of our proven skincare treatments.
Our highly trained staff stay up to date with the latest products and techniques to ensure our clients get the best service possible.
You deserve to be spoilt. Call our experienced beauty therapists at Sea of Beauty today to book an appointment. You can also book online here.
DMK Treatments
Sea of Beauty is proud to be a certified beauty therapist for the world's number 1 professional skin revision products by DMK—the only company in the world to use enzyme therapy. It works with the individual biochemistry of your skin to produce dramatic results. While some cosmetic facial treatments only act on the surface of the skin, DMK enzymes aim to strengthen the structural integrity and create an environment for new, healthy skin cells to thrive.
Renowned Beverley Hills botanical scientist and skin specialist, Danné Montague King has formulated a range of products and treatments designed to promote youthful healthy skin. The revolutionary skincare concepts focus on 4 key steps: remove, rebuild, protect and maintain. All formulations work in conjunction the body's biochemistry to restore skin to peak condition.
Our beauty therapist will assess your skin and recommend the best treatments for your needs. DMK products are infused with a mixture of antioxidants, vitamins, minerals, proteins and trace elements to nourish your skin at a cellular level.

Enzyme Therapy Treatments
Using the benefits of transfer messenger enzymes, DMK's signature facial treatment, enzyme therapy, forms the basis of all DMK Treatments:
Level 1
An introduction to the wonderful world of DMK products. Includes deep cleansing, enzyme therapy treatment and transdermal infusion. Suitable for all skin colours and conditions.
$145
Level 2
This is DMK's signature treatment. It includes exfoliation preparation treatment suited to your skin type, along with enzyme therapy and transdermal infusion.
$180
Level 3
Suitable for all skin types, the intensive booster preparation is used in conjunction with enzyme therapy and transdermal infusion for visible results.
$220
Level 4
A combination of vigorous exfoliation and enzyme therapy to remove dry and damaged skin cells and accelerate your results. This truly is the ultimate in DMK signature treatments!
A-Lift®
A 12-week skin fitness program designed to correct the signs of ageing via a series of weekly muscle banding treatments.
$2800 (includes home prescriptive)
Bihaku
A professional brightening treatment designed to even out skin tone and lighten your complexion.
$180
Follicuzyme®
Dead skin cells and ingrown hairs can cause a bumpy, rash-like effect. This dedicated treatment works to dissolve the hair follicles and soothe any inflammation.
$220
Hydradermaze
An advanced skincare program used to help clear acne and clogged pores with fortnightly treatments over a 12-week period.
$220
Instant Lift
An instant pick me up treatment, this facial is designed to firm, tighten and brighten your skin for any special occasion.
$280
Liquid Laser
A light, non-invasive treatment is formulated to strengthen, firm and rebuild your skin.
$220-$350
MelanoZone
A sophisticated answer to complex pigment concerns on your face and body, MelanoZone will help restore a healthy glow, revise uneven skin-tone and reduce hyper-pigmentation.
$220
Muscle Banding
Muscle banding lifts and firms the skin and assists in the restoring skin function and fighting ageing.
$220

or if you have questions about which process is right for you, please call our salon on (02) 4872 2040
.
Transdermal Nutrition Facials
A traditional cosmetic and relaxing facial using transdermal delivery to generate cellular change and to improve the aesthetic appearance of the skin. Each regime includes a cleanse, exfoliation, masque, transdermal tailored infusion and massage.
De-Sensitising Treatment
Improves skin reactivity with a soothing and relaxing facial.
Biogen C De-Stress Treatment
Using the effects of vitamin C, this brightening and revitalising treatment works to calm and de-stress the skin.
Herbal Pigment Regulating Treatment
Regulate uneven skin tone and dark circles with this pigmentation-specific treatment.
Dermatox Treatment
A deep cleanse recommended for those who work or live in polluted environments.
Sebaclear Purification Treatment
Purifies the pores by softening hardened sebum wax and oils within the skin.

All treatments 30 minutes $70, 1 hour $120
Peels
Pro Alpha Six-layer Peel
A non-invasive resurfacing procedure for those wanting to reveal a younger completion in less than a fortnight. Pro Alpha Six-layer Peel involves six layers of solution, which will lead to peeling of the skin revealing younger looking, smoother skin.
$1600 (includes home prescriptive)
RP (Remodelling Procedure)
An alternative to the Pro Alpha Six-layer Peel, RP is a face and body peel treatment recommended for sun damage. premature ageing, and loose sagging skin.
$1600
Lunchtime Peel
Performs a controlled micro-removal of the epidermis – leaving the skin looking instantly radiant and luminous, whilst contributing to the reduction of fine-lines, wrinkles and visible pores.
$180
Microdermabrasion
Discover what it looks and feels like to be fresh-faced. This process helps to restore elasticity and improve skin surface by the removal of the outer layer dead skin cells. It also evens skin tone, reduces fine lines and unclogs pores.
If you are prone to acne or premature aging, regular microdermabrasion could be the answer you've been looking for. Individual results may vary.
DMK Enzyme Therapy works fantastically in conjuction with Microdermabrasion. With the remove, rebuild, protect and maintain philosophy, DMK and Microdermabrasion combined can create a positive change in the skin.